Jenifer Reads is designed to help young people and families explore courageous youth stories, as well as daily life while stuck with family and isolated from life "from before". This read-aloud experience promotes literacy, provides conversation topics at home and with friends (online or in person) and ties in with the BC curriculum.
Please tag us on social media with ideas and suggestions for your teaching colleagues! Share with us what you are doing in your family or school, and we will recirculate your experiences. You will find our handles below!
As we get set for our October 5-23, 2020 reading of Anne Frank's Diary of a Young Girl, we would like to thank our community partners for supporting with educational resources.

For The Diary of a Young Girl, we have partnered with our friends at the Vancouver Holocaust Education Centre (VHEC) and in Quebec with our friends at the Montreal Holocaust Museum.  Below we are providing educators and families with supports for the book related to key issues from Anne Frank's writing.  Additional resources will be shared by Jenifer during her videos, including tips on journal writing.
Vancouver Holocaust Education Centre
The Anne Frank Teachers Guide (PDF) was produced by the Vancouver Holocaust Education Centre (VHEC) to complement the exhibition Anne Frank: A History for Today (2014). The lessons, materials and activities provided in this guide can be used by educators to prepare and debrief their students while reading Anne Frank: The Diary of a Young Girl. Lessons 1 and 2 (pre-visit) equip learners with basic knowledge of prewar Jewish life in Germany and the Netherlands, insight into the rise of National Socialism, and perspective on wartime hiding. The extension lessons (post-visit) encourage learners to reflect on key human rights issues relating to the Holocaust, civic responsibility, and popular culture through an investigation of primary source material and online media. This resource is recommended for learners for grade 6 through 12.
VHEC_Online Education Resources (PDF)
The Vancouver Holocaust Education Centre (VHEC) supports you in remote teaching and learning about the Holocaust and its important lessons for today and the future. This list provides you with an overview of the comprehensive VHEC online resources that include recorded eyewitness accounts of Holocaust survivors, teacher's guides, virtual thematic exhibitions, primary sources of the VHEC Collections and much more. All of the resources are: Free of charge; Easily accessible for educators and learners; Do not require special apps; Adaptable to your specific teaching and learning requirements;  Aligned with core competencies of the BC curriculum.
The MHM has a wide range of online resources designed to support your teaching about the Holocaust. We've gathered a selection of these resources that connect with Anne Frank's story to complement you and your students' participation in the Jenifer Reads project.
All of these resources are available online, for free, in both English and French, and can easily be adapted to suit the specifics of your teaching and learning situation.
To learn more about the Holocaust, deepen your understanding of the history of this time period by exploring artifacts and listening to survivor testimonies that are related to Anne Frank's experiences.
1. What is the Holocaust?
● A History of the Holocaust will help provide a better understanding of the different steps that led to the genocide of the Jews through the use of photographs, timelines, historical maps and testimonies.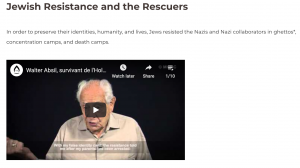 ● Our downloadable Timeline poster parallels a selection of key dates during the Holocaust, in Europe and in Canada.
● Our free Museum app includes a guided tour of the museum that focuses on the theme of Children and Youth during the Holocaust through artifacts and testimonies from child survivors.
2. The Holocaust in the Netherlands

● Our Draw me the Story of… the Jews in the Netherlands during the Holocaust pedagogical tool is filled with activities related to this subject - including creating a comic strip.
● The Anti-Jewish laws and measures in the Netherlands downloadable timeline highlights the different stages of the Holocaust in the Netherlands.
● The video testimonies in this Youtube playlist share the experiences of Dutch survivors. Ilse's story is particularly relevant since she knew Anne Frank's sister Margot - they attended school together. These materials are © Montreal Holocaust Museum 2020.
3. Life in Hiding During the Holocaust
● Our Objects of Interest collection showcases artifacts that speak to life experiences similar to Anne Frank's. Here you'll find artifacts related to the theme of life in hiding.
● Discover the many experiences of children and youth who survived in hiding during the Holocaust by watching their video testimonies here and here. (select the Hiding theme from the drop-down menu).
4. Youth in Concentration Camps
● Joseph Kastner speaks about his experience of being deported to Bergen-Belsen (the concentration camp where Anne Frank and her sister died) when he was 14.
5. Other Resources for Jenifer Reads' homeschoolers and teachers
● General information and resources for teaching about the Holocaust and genocide in high school.
● Looking for post-Jenifer Reads information from the Montreal Holocaust Museum? Sign up for their Teacher Newsletter
● Join the Pedagogical Resources Facebook group for teachers.
For more information, contact: education@museeholocauste.ca